Product Description
Expert content for online Trainer
Build expert content, Supported expert content means we can train you an in industry-leading online trainer.
How You Can Help Yourself on Subject Matter Expert by Create an Effective expert Content on your own.
An experienced Subject Matter Expert is one of the most valuable assets you can have at your disposal.
If you don't have a subject matter expert available for your training development project, we recorded a series of new, on-screen video training tutorials on how anyone can turn their knowledge – or even other people's knowledge – into sellable content!
The key is how to help you to create an amazing online course.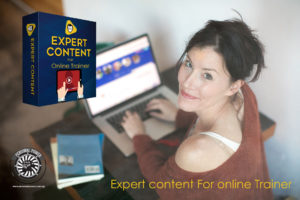 The video training covers various ways on how one can productize his or her knowledge like…
Creating high-quality E-Books that sell
Video training (like the one we're offering here)
Membership sites
Effective PowerPoint training
Podcasts
And more within the training videos…
Unlike the other generic training products you're used to seeing out there, these videos go into detail it's like watching over our shoulders as we create a product!
But Here's The Awesome Part…
Our expert content for online trainer training course, we show you those affordable hands-on media training, tools, and resources in video
We'll share top tips you can use to give your Subject Matter Expert the guidance they need to create effective online training courses.
This course will teach you how to build scalable, repeatable processes for creating and promoting content that converts into new customers.
If you're creating content or managing content creators – this course will give you expert tactics for efficiently building your content library, and extracting more value from …
Defining what a subject matter expert is in the modern era of instructional design requires moving past traditional ideas
What you going to learn
E-Book Content Formula
How To Format Your E-Book
How To Create Table of Contents
Cover Creation with Canva.com
How To Put Cover on E-Book
How To Convert To PDF
How To Use Camtasia To Record On-Screen Video
Editing The Video (cut video clips, remove audio)
How To Create Transitions
How To Render Your Video In Camtasia
How To Record PowerPoint Slides
How To Create Transitions
How To Create Animations
How To Change And Format Image And Background
How To Add Text Effect
How To Add Audio/Video
Any Video Converter (MPEG4 -> MP4)
How To Record In MP3
Tips To Record High-Quality Audio
What is Podcast?
How To Create Compelling Podcast
How To Start Recording Podcast
How To Publish Your Podcast
CD Physical Publishing
"Print On Demand" for the home study course
And many more
THIS is the difference between creating content that SELLS
After creating hundreds upon hundreds of various information products,